Memory Verses
Pastor David wants each of us to be in the Word of God on a daily basis. Each week, whether Pastor David or one of our Assisting Pastors is teaching, they challenge us to read through a certain section of scripture through the week and memorize a verse.
As you are faithful to meditate on the scriptures the Lord will use the Holy Spirit to remind you of them during times that you maybe witnessing or times of encouragement for yourself and others
It is never too late to start, here are some of the most recent ones: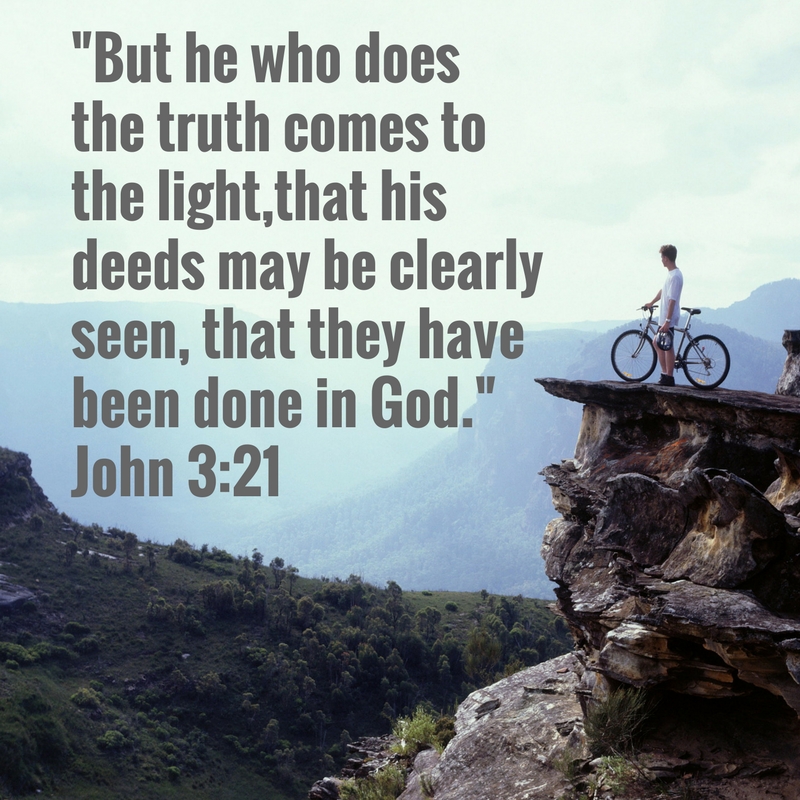 John 3:21
"But he who does the truth comes to the light, that his deeds may be clearly seen, that they have been done in God."
John 3:3
Jesus answered and said to him, "Most assuredly, I say to you, unless one is born again, he cannot see the kingdom of God."
John 2:24
But Jesus did not commit Himself to them, because He knew all men,
Matthew 1:21
"And she will have a son, and you are to name him Jesus, for he will save his people from their sins."
Ephesians 4:31-32
Let all bitterness, wrath, anger, clamor, and evil speaking be put away from you, with all malice. And be kind to one another, tenderhearted, forgiving one another, even as God in Christ forgave you..
John 1:14
And the Word became flesh and dwelt among us, and we beheld His glory, the glory as of the only begotten of the Father, full of grace and truth.
10 Commandments - Commandment 10
You shall not covet.
10 Commandments - Commandment 9
You shall not bear false witness against your neighbor.
10 Commandments - Commandment 8
You shall not steal.
10 Commandments - Commandment 7
You shall not commit adultery.
10 Commandments - Commandment 6
Thou shalt not murder.
10 Commandments - Commandment 5
Honor your father and your mother.
10 Commandments - Commandment 4
Remember the Sabbath day to keep it holy.
10 Commandments - Commandment 3
You shall not take the name of the Lord your God in vain.
10 Commandments - Commandment 2
You shall not make any graven images.
10 Commandments - Commandment 1
I am the Lord your God, you shall have no other Gods before me.
Matthew 6:21
For where your treasure is, there your heart will be also.
Philippians 1:6
being confident of this very thing, that He who has begun a good work in you will complete it until the day of Jesus Christ;
Philippians 2:13
for it is God who works in you both to will and to do for His good pleasure.
1 John 1:8-10
If we say that we have no sin, we deceive ourselves, and the truth is not in us. If we confess our sins, He is faithful and just to forgive us our sins and to cleanse us from all unrighteousness. If we say that we have not sinned, we make Him a liar, and His word is not in us
Genesis 12:3
I will bless those who bless you,
And I will curse him who curses you;
And in you all the families of the earth shall be blessed."
Acts 4:12
Nor is there salvation in any other, for there is no other name under heaven given among men by which we must be saved."
2 Peter 3:9
The Lord is not slack concerning His promise, as some count slackness, but is longsuffering toward us, not willing that any should perish but that all should come to repentance.
Ephesians 2:8-10
For by grace you have been saved through faith, and that not of yourselves; it is the gift of God, not of works, lest anyone should boast. For we are His workmanship, created in Christ Jesus for good works, which God prepared beforehand that we should walk in them.
2 Timothy 3:16-17
All Scripture is given by inspiration of God, and is profitable for doctrine, for reproof, for correction, for instruction in righteousness, that the man of God may be complete, thoroughly equipped for every good work.
Romans 5:12
Therefore, just as through one man sin entered the world, and death through sin, and thus death spread to all men, because all sinned
Romans 6:23
For the wages of sin is death, but the gift of God is eternal life in Christ Jesus our Lord.
Romans 10:9-10
that if you confess with your mouth the Lord Jesus and believe in your heart that God has raised Him from the dead, you will be saved. For with the heart one believes unto righteousness, and with the mouth confession is made unto salvation.
Romans 10:13
For "whoever calls on the name of the LORD shall be saved."
John 3:16,17
For God so loved the world that He gave His only begotten Son, that whoever believes in Him should not perish but have everlasting life. For God did not send His Son into the world to condemn the world, but that the world through Him might be saved.
Romans 3:10
As it is written:
"There is none righteous, no, not one;
Romans 3:23
for all have sinned and fall short of the glory of God,
Ephesians 3:20
Now to Him who is able to do exceedingly abundantly above all that we ask or think, according to the power that works in us,
Romans 5:8
But God demonstrates His own love toward us, in that while we were still sinners, Christ died for us.
Psalms 122:6
Pray for the peace of Jerusalem: "May they prosper who love you"