Women's Fellowship
Fellowship is a vital part of The Bridge. In the development of relationships with others who have like faith, we are encouraged, challenged and blessed as we study God's Word in an intimate way. The first Saturday of each month at 9:30 am the Ladies meet at the church for a free, hot, delicious breakfast, fellowship, prayer and a time of study in God's Word. We go through a chapter of Proverbs during each months meeting. There are also weekly Bible studies on Tuesday evenings from 7:00 to 8:00 and Wednesday mornings from 10:00 to 11:00. Childcare is available during the Tuesday Bible studies.
Proverbs 14:1 tells us that "The wise woman builds her house, but the foolish pulls it down with her hands."
We provide a setting that will encourage friendships, allow for the exercise of our spiritual gifts (Ephesians 4:8) and allow us to minister to each other and bring edification (Ephesians 4:12). These things equip women to walk wisely and build up not only their own walk with the Lord, but also their households.
Check our calendar for the next Women's Fellowship.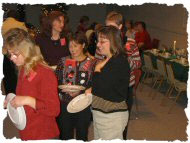 "And they continued steadfastly in the apostles' doctrine and fellowship, in the breaking of bread, and in prayers."
Acts 2:42