Men's Ministry
Fellowship is a vital part of The Bridge. In the development of relationships with others who have like faith, we are encouraged, challenged and blessed as we build up one another (1 Thess 5:11), comfort one another (1 Thess 4:18), bear one another's burdens (Gal 6:2), and praying for one another (James 5:16).
The Men's Fellowship Breakfast is held the third Saturday of each month at 8:00 AM. The men meet at the church for a hearty breakfast provided by the church, followed by fellowship with one another through a time of prayer and a brief time of study in God's Word.
On Tuesday evenings from 7 to 8 the men get together for Bible study, small group fellowship and prayer. Each Tuesday night a different Elder of the church teaches based on a man from the Bible. We then split into small groups and minister to one another in word and prayer.
This is a great setting for establishing friendships and exercising our spiritual gifts (Ephesians 4:8) to minister to each other and bring edification (Ephesians 4:12).
Along with the monthly breakfast and Tuesday evening Bible studies, we have quarterly events held offsite. The daily grind can be tough, so with Golf, Paintball, Skeet Shooting and Softball Games, we get a chance to kick back with our friends and just have fun.
GOD has chosen us to be men, it always helps to link arms with one another as we walk in the call. Look forward to seeing you!
Check our calendar for the next Men's Fellowship.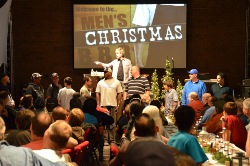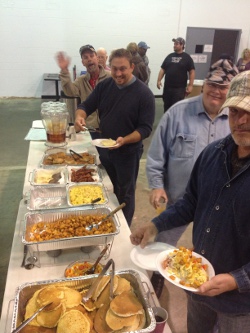 "And they continued steadfastly in the apostles' doctrine and fellowship, in the breaking of bread, and in prayers."
Acts 2:42